Disneyland Paris is an unforgettable destination for Paris visitors. Especially for kids and youngers by heart. And it is one of the most visited places in the world throughout the year. Because it is a paradise of magic and thousands of attractions. Every step you walk in Disneyland Paris will bring all new feelings to you. So, the experience of Disneyland Paris is unlimited. Learn something about Disneyland Paris will be a great advantage to plane your trip. And good to know about transfer options to reach Disneyland Paris. Especially from Charles De Gaulle (CDG) airport. So, let's go there.
What is Disneyland Paris
Disneyland Paris is one of Disney park owned by the world-famous Walt Disney company. This is the world's second-largest Disneyland which opens in 1992. Originally Disneyland Paris know as euro Disney. Disneyland Paris consists of two themed parks as Disneyland Park and Walt Disney studio park. Now let's go through about its ultimate attractions and magical experiences.
You can meet your favorite Disney characters
Having a chance to meet your favorite Disney characters is the most heart touching attraction in Disneyland Paris. See them, meet them, talk with them is a dream of kinds who love Disney stories such as sleeping beauty and mickey mouse. So, all popular Disney characters such as Mickey and Minnie, captain hook, Cinderella, Jack sparrow and bell, sleeping beauty are waiting for their lovers. By the way, there is a chance to take dinner with your favorite Disney characters at Disney hotels. But, this opportunity can be taken only with a few Disney hotels.
The iconic sleeping beauty castle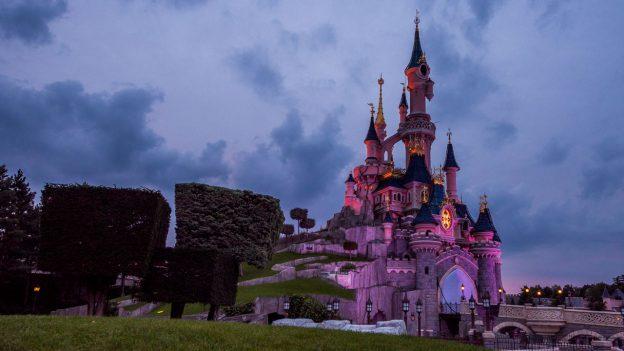 The symbolic icon of Disney Brand is the sleeping beauty castle. And it is the symbolic icon of Disneyland Paris as well. It will bring the experience of a real palace and real look of Sleeping beauty movie's castle. The most impotence thing is illumination shows which display on and in front of the castle. Let's talk briefly about these illumination shows in the next paragraph of this explanation. Because it is such a big attraction of Disneyland Paris.
Disney illumination shows
At the end of the evening and the beginning of night Disneyland Paris starts their night illumination shows. There is no specific time to start it. However, this show is on and in front of the sleeping beauty castle. This show comprises modern illumination technologies and colorful fireworks and waterworks. Sometimes waterworks also looks like fireworks, because of lights and illumination effects appear on water. Sleeping beauty castle covers with your favorite Disney stories and Disney characters combinations. Disney memories and icons such as mickey mouse, lion king, beauty and the beast and many Disney princesses on the illumination show in front of the castle.
Walt Disney studio park
This is the magical place that brings, behind the sense secrets of Disney films and television shows. Additionally, the Walt Disney studio park consist of Disney themed rides, play lands, and 3D cinema hall. However, this is the magical area to experience, how these fantastic Disney films and television shows origin. Disney park will make happy for kids and youngers by heart. But, Walt Disney studio park will make all people happy. Don't miss this fantastic experience.
Extra magical experiences in special seasons and holidays
Disneyland Paris annually organizes many extra events on special seasons and holidays. And Disneyland Paris open for extra hours on these special days till 10 pm or 11 pm. The most colorful celebration in Disneyland Paris is its Christmas celebration. It starts in mid of November. Disneyland's Christmas celebration ends with the New Year's Eve party on 31st night in December. You can enjoy the Disneyland experience with Christmas themed touches. Another special season on Disneyland is the Halloween festival. It celebrates in October every year. It is an excellent chance for Halloween lovers.
However, Disneyland Paris is so crowded in special seasons and holidays. Especially in European school's vacation months such as February, March, October, and December. So, don't forget to per book for extra events such as New Year's Eve party and per book your accommodations.
Disneyland Paris tickets
You can book your tickets via Disneyland Paris official web site or buy tickets at the gate. But, I would like to recommend the online method. Because it saves your time which has to spend at the ticket line in front of the gate.
The ticket price for entering only one park for one day is around 70 to 76 euros. You can visit either Disneyland Park or Walt Disney Studio Park with that ticket. And if you looking for visiting both Disneyland Park and Walt Disney Studio Park with a one-day ticket, the price is around 87 to 95 euros. However, ticket prices may be changes due to special offers and as on the platform or website which you use to book tickets. So, try to book with the cheapest way.
Transfer from Charles De Gaulle to Disneyland Paris
CDG airport is the main airport in Paris city. The total distance from CDG airport to Disneyland Paris is only 34 km from the fastest way. If you transfer by a public train or shuttle bus, it spends around 20 to 45 minutes to total journey. Transfer time depends on sup stations waiting time and road traffic for buses. And it may add additional time to wait for a train or bus at stations. However, public transportations are cheaper than taxi services. But taxi services are comfortable than public transportation ways. If you transfer by a taxi, it will spend around 40 to 45 minutes to the total journey.
Best taxi service in Paris Private shuttle service
We offer you the best service among other taxi services in Paris city. This will be the cheapest option for you and this is a trusted service without any hidden fees. You can book our taxies before your arrival. Our drivers will wait for you even in your delayed arrivals. These bookings, arrival waiting and taxi canceling are free. So, don't forget to be with us on your whole journey.