You have to find and book a place to stay while your Paris trip. And if you are a Disneyland Paris visitor, It's good to stay at a Disneyland Paris hotel. Because it will bring you the fantastic feeling of Disneyland Paris throughout the day even the time you rest at the hotel. Because these Disneyland Paris hotels situated very closer to the Disney Park and most of hotels have Disney themed attractions at hotel. So, the Explorers hotel is one of best options to stay during your Disneyland Paris trip. It is a world of explorers and pirates. Explorers hotel will prolong the Disneyland experience. So, now let's go a word trip to the Explorers hotel.
Where it located
The Explorers hotel located in avenue de la Fosse des Pressoirs in Magny Le Hongre, Paris. It is 3.1 km away from the Disney park. However, it is not a walkable distance. But it spends only 6 minutes to reach Explorers hotel from Disneyland Paris by your vehicle or a taxi. By the way, Explorers hotel provides a shuttle bus service to Disneyland visitors to reach hotel. Fortunately, hotel area is covered by a green environment with giant trees and plants. So, that environmental freedom will bring you a pure breath away from concrete forests.
Rooms and other main faculties in Explorers hotel
The Explorers hotel has 390 rooms. It includes family rooms which accommodate 4 to 10 people. They have a room category which designed for the needs of people with restricted mobility. These adapted rooms can accommodate up to 4 people. There double/ executive rooms are perfect if someone visit Disneyland Paris as a couple or with a friend. Because these rooms can accommodate up to only 2 people.
Besides, explorers hotel offers two extra special room categories. As a special category, their knight and princess suites brings a magical suite with a wave of wand. This rooms can accommodate up to 6 people. Another special room category is with three original suites with a parental room with a double bed, a lounge with a sofa bed and a room with bunk beds. This category is also accommodating up to 6 people. By the way, all rooms consist with nowadays most wanted facilities such as free Wi-Fi.
This hotel opens in every day in 24 hours. Their multilingual staff will support you for all. Explorers hotel offers three restaurants as two snack bars and a bar. And there is a Disney shop located inside the hotel. So, you can buy Disney themed items, toys, etc. In addition, you can buy Disneyland Paris tickets at the reception of Explorers hotel as well. They offer a free shuttle service to and from Disneyland Paris and nearest train station. They offer free parking facilities for customers' vehicles. Besides, there is an extra offer you can get in Disneyland Paris as a gust at Explorers hotel. With that offer, you can park your vehicles for free in Disneyland Paris.
Attractions and activities in Explorers hotel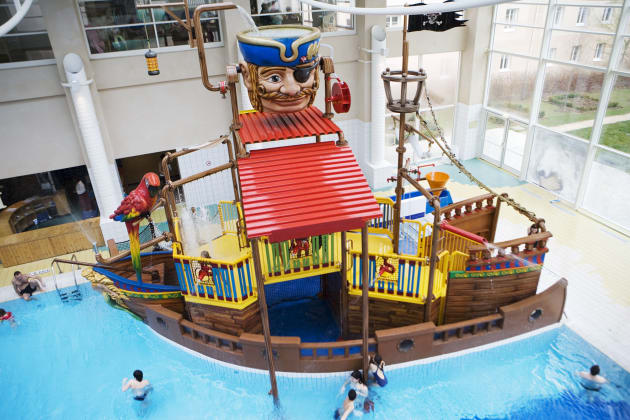 Explorers hotel is rich with many extra activities which themed with explorers and pirates. The water playground is the central attraction of Explorers hotel. There are three water slides and a pirate ship on the playground. It brings a great experience for children. It opens every day till 11 pm excepting repairing days. You can see the fearsome dragon who meets during Sir Archibald's adventures in this hotel. Today it is harmless. But he is still growls and sometimes breathes out smoke through his nostrils. There is a children's paradise which rich with many games for kinds. It is Scally Wagg's Jungle Adventure. On addition, there is a 6D cinema attraction there. It consists with 3D images, movie seats, special lighting and wind effects, sound effects to make the feel as you were really there.  6D cinema is an attraction which not available in hotels. But it is here. So, don't forget to enjoy the 6D cinema attraction in explorers' hotel.
How to get from CDG airport to Explorers hotel
Total Distance from CDG airport to Explorers hotel is 38 km. There are few options to transfer from CDG to Explorers hotel. But, you must select the most comfortable way to you. you can transfer by a public train, shuttle bus service or a privet taxi.
By a shuttle bus, it spends around 2 to 3 hours to the total journey. Total time duration depends on road traffic. But public train services spend only 45 minutes to the total journey. You must spend more 5 to 15 minutes to reach to and leave from bus and train stations as well. By the way, Explorers hotel provides a shuttle bus service for their gusts from and to CDG airport. However, privet taxi service spends only 44 minutes. However, public train and shuttle bus services are cheaper than taxi service. But not comfortable as much as taxies.
If you choose your transfer option as taxi service, the best and cheapest service to recommend is our Paris privet shuttle service. We offer a friendly and comfortable service to our passengers 24 X 7. Our website offers free booking and free cancelations as well. We have no any hidden fees. So, you can transfer from Charles De Gaulle airport to the Explorers hotel with us anytime. And don't forget to be with us for every transfers during your fantastic Paris trip.